Titles - Q
Stories
Summary: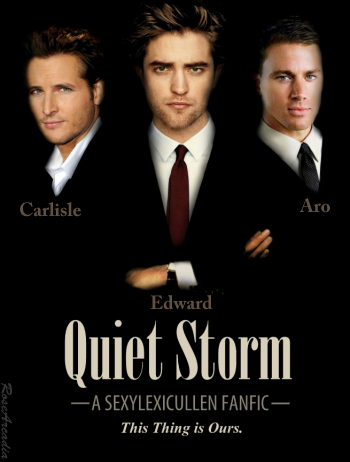 "Two weeks. Two years. Who cares?" A lesson in love, crime, and passion. When two young lovers find themselves in the middle of the storm, can love conquer all? AH. OOC. Rated M Mafia fic
Romance, comedy, drama...Quiet Storm has it all.
Banners by the AMAZING RoseArcadia
Categories:
Twilight
Characters:
Bella
,
Edward
Genres :
Humor
Pairings:
Edward/Bella
Slash Pairings :
None
Team:
Team Human
Warnings:
Violence
Challenges:
None
Series:
None
Chapters:
48
Completed:
Yes
Word count:
611206
Published:
February 08, 2011
Updated:
July 27, 2012
To receive email updates, please add story to favorites and edit your user preferences
The "Track This" feature DOES NOT SEND email updates
Summary:
Angela's sick and tired of getting sexiled every time her roommate's boyfriend comes into town. This weekend, though, Jacob Black's brought a friend along, and her Friday night's about to get a lot more interesting.
Categories:
One Shots
,
New Moon
,
AU
Characters:
Angela
,
Embry
Genres :
Fluff
,
Romance
Pairings:
None
Slash Pairings :
None
Team:
Team Wolf
Warnings:
None
Challenges:
None
Series:
None
Chapters:
1
Completed:
Yes
Word count:
4798
Published:
September 29, 2011
Updated:
September 29, 2011
To receive email updates, please add story to favorites and edit your user preferences
The "Track This" feature DOES NOT SEND email updates